Welcome to
Saptashati
Saptashati Foundation is a women's rights nonprofit organization which is a platform to empower widows, handicapped people, disabled people, senior citizens and women of the nation. With the goals of providing strength, confidence, better living, and respect, Saptashati Foundation brings in enlightenment and a ray of hope in the world of people who have gone through a lot of test things in their lives.
We are the voice of these people, and we are dedicated to bringing that positive change that can bring happiness in their lives. We closely work with rural and urban women and organizations on various problems to make their lives better.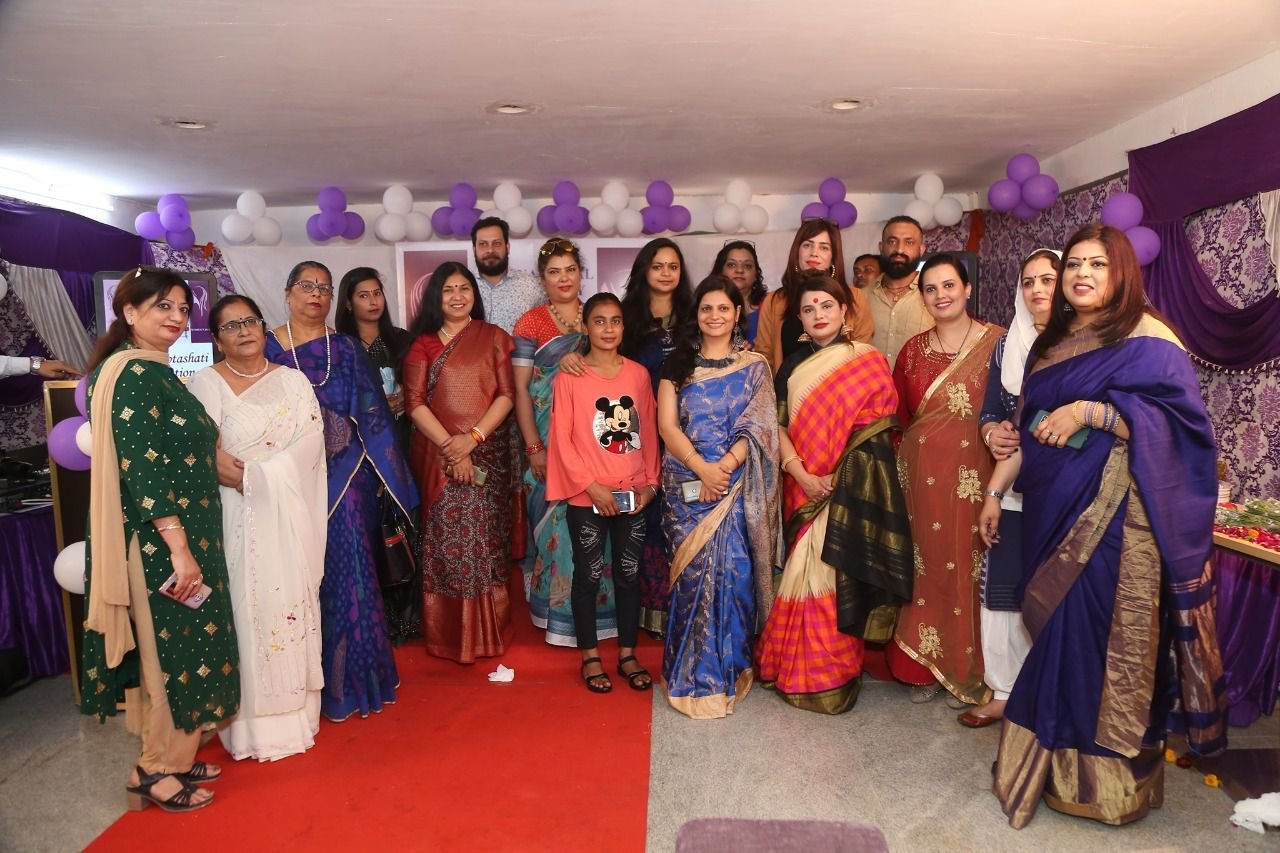 Saptashati Foundation also links to various civil-society organizations on the welfare of society by addressing and resolving many issues for women and senior citizens. From providing better education for the needy people to raising voice against dowry harassment, child marriage, female genital mutilation, our team of Saptashati Foundation becomes the voice of the strong women of India and let them live with independence and a sense of respect in whatever they are doing.
Saptashati Foundation is developing a society of peace, both inside and outside the houses, through women's active and knowledgeable involvement in various activities. By providing daily work wage activities to bringing the right care for handicapped and disabled persons with collaboration with other NGOs, Saptashati Foundation is the modern helping hand for women with core values backed by traditions and respect. We strengthen women's organizations, group action, and their leadership in the societies for spreading the right things among the people.
Saptashati Foundation is working for the welfare of women, and we are rapidly taking steps with pace and quality of help among people who are in no that good condition in society and we work towards the improvements of their social and economic status so that they can get the deserved respect, happiness and pride in the society. The Saptashati Foundation organization shall, without any profit motive and without any discrimination of caste, creed, color, weaknesses, sexual orientation, identity, or religion. We at Saptashati Foundation promote the means of economic change of grassroots women through the development of maintained micro-enterprises such as handloom, craftsmanship and natural agro-food products, etc.
Saptashati Foundation brings knowledge of the problems that women and less-fortunate people face in their daily life. We are courageous in our goals, and we are dedicated to cultivating programs that can help them in earning and leading a better life.
Mission
Widowed women, handicapped people, disabled people, have to struggle for their rights and are frequently victims of discrimination. At Saptashati Foundation, our team works towards the good cause of relieving the distress of widowed women. Sustaining economic insecurity, social disgrace, and often abandonment, widowed women are facing several difficulties in Indian society. We at Saptashati Foundation strive to bring about a change in the attitude of living and empower economically fruitful opportunities for women. We are here to resolve the challenging experience of living in a patriarchal community with a widowed status.
Widowed women and their children need our support and care. Saptashati Foundation was established with the aim to inspire a sense of welfare and bring a social revolution in the way we see these serious matters. Our purpose is to offer financial and social as well as economic security for women who have endured the grief of widowhood. We help, assist, and support old and young widowed women in rural and urban areas to regain an opportunity at a more secure life.
Those with a sensitive vision realized that the uncertainty spread to all women who are subject traditionally, culturally, and economically to the patriarchal framework. Women had to come out of the enclosing walls of their houses if they had to carve out a future for themselves in the developing world. Women would have to come out of their cocooned living if the process of nation-building had to be undertaken. Women themselves would have to understand and build on their own powers and abilities. To serve the women of the countries in a better way, Saptashati Foundation offers every kind of help to offer the sheer joy of living life with happiness.
Saptashati Foundation mission is to enable widowed women and less-fortunate women to become self-reliant by giving better knowledge along with the important skills and development education and also provide them social, financial, and psychological support for good living.
All our community programs are surrounded by the objective of changing the thinking and attitudes of the people as the main objective and bringing a skill development opportunity in the communities with people's support and ownership. All our best methods in the field are distributed to other like-minded NGOs and community experts through our education modules for children and women.
As the condition of widows in India is very pitiful due to age-old notions especially among the rural and poor neighborhoods. They are victimized in many forms in their everyday lives and have lost their importance and honor. While among the wealthy, educated, and capable women are experiencing equality in the society, the majority of the rural disadvantaged widows still suffer due to notions. We are here to bring change and make everything equal for these people and allow them to live their life with happiness and respect in society.
Vision
Our vision focuses on the welfare of handicapped people, widows, and senior citizens. We want to give them equal opportunities to live with pride in society with independence and self-respect. We work toward the economic reform of these people and help them provide the right skill set and exposure to let them move ahead in life. We fight against dowry harassment, infanticide, female genital mutilation, and human trafficking.
Women compose half of the population of the globe and share one percent of the resources. In India, women are born to experience pain when they are widowed or even divorced. The difficulties of women are doubled if they happen to be widows on the Indian land. A woman is enclosed by the culture that seldom she can get out of this. Though social transformation is very fast due to the growing globalization few areas remain constant and one of the areas where the progress is very slow in marriage and related customs.
Every change on the planet starts with a new phase of consciousness, a new experience, and a new vision. The main drive of Sati Savi motive is to create a new growth paradigm, which is the effect of a new experience to set the motion for women's empowerment programs and global culture for empowering women by gathering NGOs, authorities, and the media to cover the women welfare knowledge and educate the public at large on practical models like the human right to justice, harmony, fitness, and care & increased opportunities for them.
Women of India have nothing to state in shaping the economic and civic space in which they live. It is important that their ideas and thoughts, natural skills, strong and effective participation in the community, and their deep purpose for a more peaceful world be supposed to help catalyze the will for the transformation of systems and structures into the way of equality, community, and peace.
Despite all the formal advertisements about empowerment and the various management schemes intended to improve women's economic and social circumstances, their present status still shows much reason for concern.
Our vision is to start and promote such methods and actions where socially and economically stable women irrespective of age, class, color, or family are able to engage actively in the means of their community so that they are able to start a life of dignity and respect.